Biology Division
Numazu Branch
Research Outline
Our research focuses on cancer. We are studying cancer biology at the molecular level in order to identify new therapeutic targets and strategies for cancer treatment. Furthermore, based on our findings, we are developing new candidates for anticancer drugs by screening for bioactive natural compounds in microbial cultures using our original experimental systems.
In addition, we apply microbes to environmental fields and also isolate entomophathogenic fungi as a new screening source.
Members
Branch Head Masanori Hatakeyama
Chief Researcher Hayamitsu Adachi

Chief Researcher Isao Momose

Senior Researcher Shuichi Sakamoto
Number of Members 14
Theme outlines
1. Development of Molecular-Targeted Drugs for Cancer
There are many biological differences between cancer cells and normal cells. We are developing drugs that block the growth and spread of cancer by interfering with specific molecular targets involved.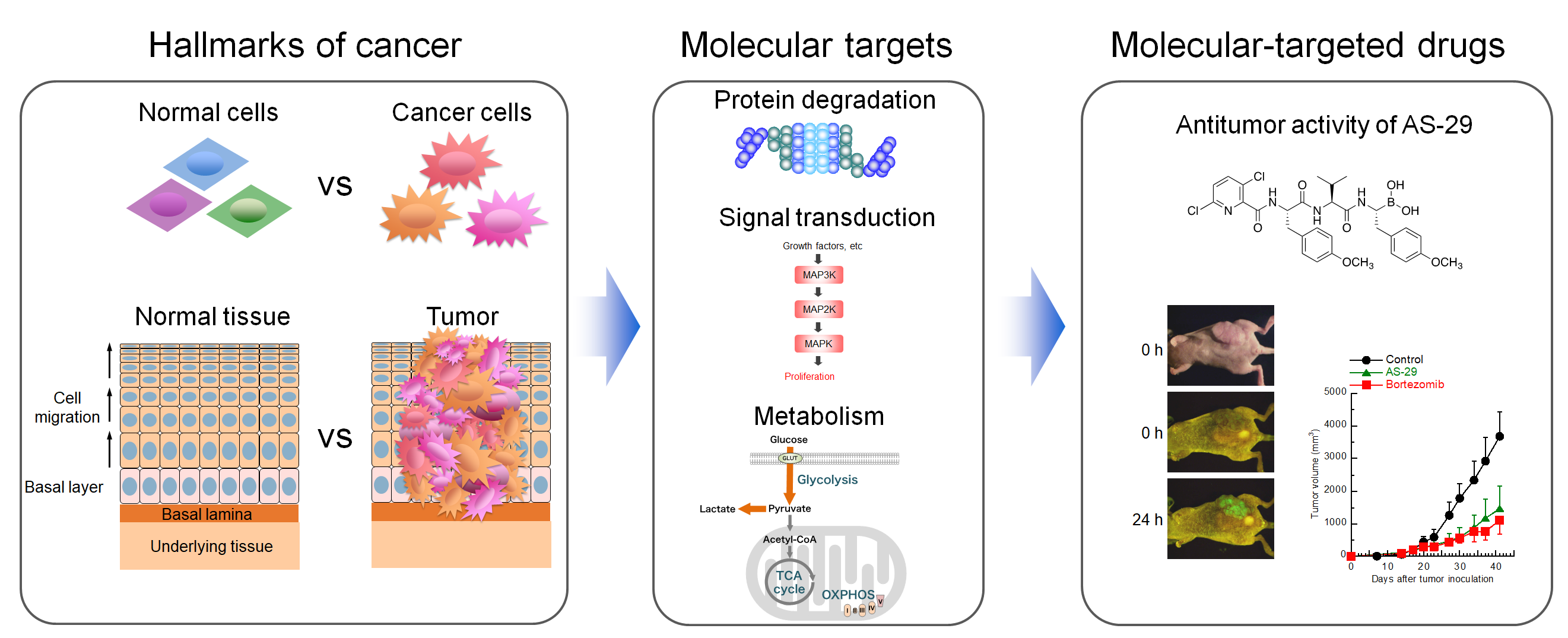 2. Screening of Bioactive Compounds from Entomopathogenic Fungi Including Tochu-kaso
We have isolated Cordyceps and related entomopathogenic fungi as screening resources for drug discovery. Entomopathogenic fungi are known to produce various bioactive molecules in their life cycle, which involves the infection process of insects, proliferation and insect death. The molecules produced by these microbes are expected to possess unique structures and biological functions and may represent seed compounds for drugs. We screen for bioactive molecules focusing on antitumor compounds and furthermore investigate the activation of fungal secondary metabolisms to broaden diversity of metabolites.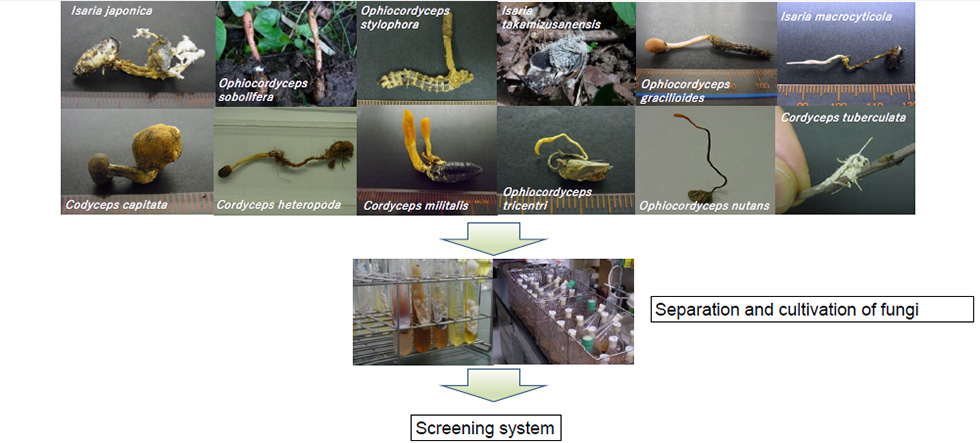 3. The Use of Microorganisms in Environmental Clean-up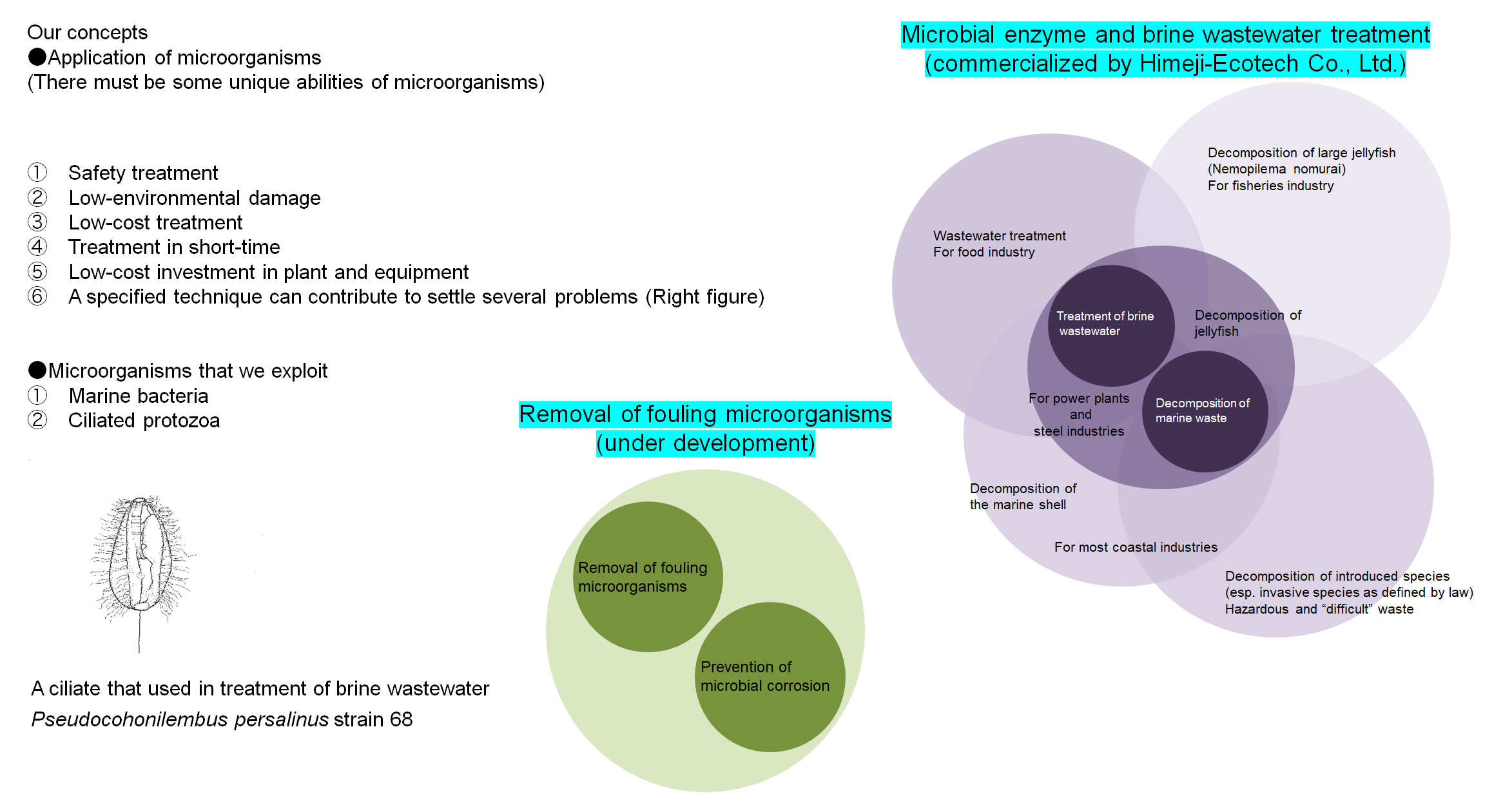 4. Synthetic Search for A Drug of Anti-pulmonary
Mycobacterium avium

complex (MAC) Disease.

Pulmonary MAC disease is a type of nontuberculous mycobacteriosis. Recently the number of patients has increased sharply in Japan. The standard therapy for pulmonary MAC disease is far from ideal; there is a high possibility for recurrence even if it is cured, furthermore the treatment is often discontinued due to side effects. Considering tuberculosis, which is the same acid-fast bacterial infection, can be cured with high probability by standard treatment, establishment of a new therapy for pulmonary MAC infections is required. Our institute has been exploring drug seeds from natural products resources, expanding the effectiveness of natural products with synthetic chemistry to produce effective medicines. We are searching for a therapeutic agent with a new mode of action against anti-pulmonary MAC disease based on the structure activity relationship of bioactive natural products, by utilizing the power of our natural products-based drug discovery.